Pup Joints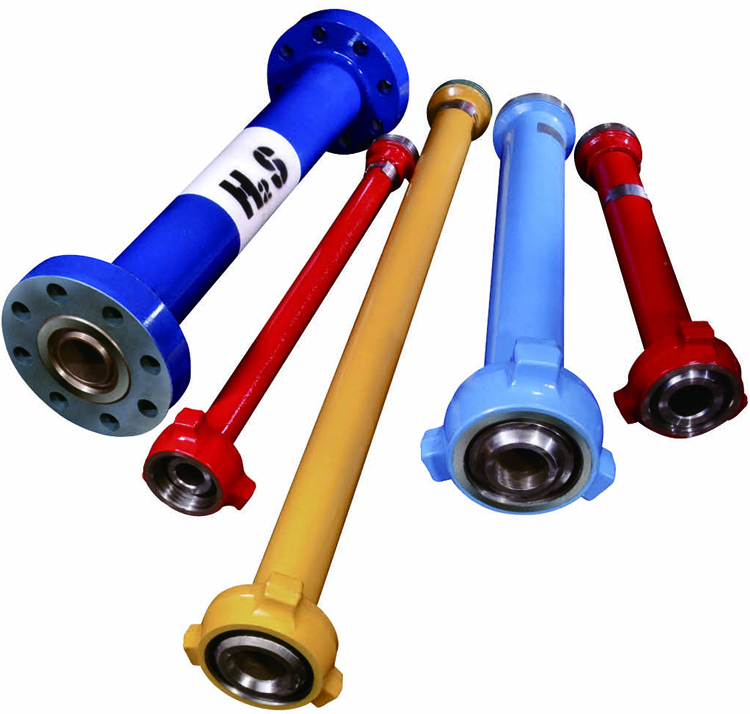 1. Product Overview
Pup joint is cementing and fracturing equipment delivery High Pressure Fluid Control Products. Widely used in the acidic operating environment (excluding containing CO2, H2S sour gas operating environment) in the high-pressure discharge line, input line, a temporary flow line, well testing, and other high-voltage transmission lines on pipelines. Pup joint specifications are 1 in ~ 4 in, length 0.5 m, 1 m, 1.5 m three kinds, rated working pressure 42MPa ~ 105MPa, working temperature -46 ℃ ~ 121 ℃.
⑴.The high pressure pup joint designed and manufactured by our company is forged by high quality structural alloy steel. Terminal union is forged together with pipe, which is able to avoid disassembling and ensure good sealing, small weight, convenient use and fast installation. high pressure Pup joint has various specifications including 1"~4" and lengths including 1', 2', 3', 4', 5', 6'etc, rated working pressure is 42MPa ~ 105MPa. Any specification of pup joint or even integral pup joint special for acid environment is available according to users' needs;
⑵.Except for integral pup joint, our company is also supplying pressure thread sealing pup joint, non-pressure thread sealing pup joint and welding pup joint.
2. Design Features
Pup joint technical parameters and performance specifications are in line with API 6A. Its product specification level PLS3, performance levels for the PR2, it can work with SPM's similar products interchangeable.
Pup joint made of high strength steel, with a special toughening process. It uses Acme threaded connection, making it with the demolition convenient, fast, reliable connection, and reliable. Multiple seal design and high precision, to ensure the sealing performance of Pup joint.
⑴. The integral pup joint is union instead of screw connection on the top, which is more secure and reliable;
⑵. Easy and quick assembling and disassembling;
⑶. High strength and low weight;
⑷ . Each technical parameters and performances of pup joints conform to standards of API Spec 6A and can be exchanged with like products internationally.
3. Main Technical Parameters of High Pressure Pup Joints
Production name

Terminal connection type

Buckle model

Working environment

Buckling size

Pressure thread sealing pup joint

Tr100×12
Tr110×8

42Mpa(6000psi)
70Mpa(10000psi)
105Mpa(15000psi)

1½ "
2"
3"
4"

Non-pressure thread sealing pup joint

Integral pup joint

Union head fig602
Union head fig1002
Union head ffig1502

M×M
M×F
F×F

Anti-sulfur integral pup joint

Welding pup joint

Welding flange pup joint

Flange

2-1/16"
2-9/16"
3-1/16"
3-1/8"
4-1/16"

Remark: ①. "F"-threaded joint, "M"-sphere joint

②. How to place an order: Integral pup joint-fig1502-M×F-3"×105Mpa(15000psi)






4. Precautions

⑴. Pup joint must confirm the rated working pressure on the nameplate before use, applicable specifications, allowing the use of the temperature range.

⑵. The operator should take into account the drilling / or production operations will feel the temperature of the device, select the appropriate temperature, and the choice of the allowable temperature compatible Pup joint.

⑶. Activities elbow have to undergo rigorous testing and nondestructive testing hydrostatic pressure in the factory. Disassemble or repair, you must be hydrostatically tested. Rated working pressure test pressure regulator 10 minutes, without leakage (Note: pressure test should be drained before the air in the system).

⑷. Pup joint should be regularly using ultrasonic thickness measurement of wall thickness, it is recommended once a month, if not reach the effective thickness value, should be replaced immediately. Replacement should be performed in conjunction with other pipelines.

⑸. Pup joint can not operate in continuous or frequent rotation swing working condition; can not be immersed in water or working underwater. Can not withstand axial load elbow work activities.

⑹. When the installation Pup joint, should fill seal grease, and manually check each joint rotation is flexible, without jamming. Operators should wear goggles to prevent the installation of a small debris flying eye injury.

5. Caveat

⑴. Do not use in excess of the rated working pressure conditions.

⑵. Pup joint design operating temperature of -46 ℃ ~ 121 ℃, when the ambient temperature is below -46 ℃, or contact the fluid temperature is higher than 121 ℃, you should immediately discontinue use.

⑶. Do not disassemble Pup joint work in the system pressure.

⑷. Pup joint less than the required thickness of the non-use, non-use of old and new with Pup joint.

7. Transport

⑴. Pup joint during transport, non-collision, to avoid the rain.

⑵. Pup joint should be stored in ventilated, dry place, not the sun and rain. Forbidden contact with acid, alkali, salt and other corrosive substances.

8. Service

⑴. Under normal conditions of storage and use, starting six months from the date of shipment or product within three months, due to manufacturing quality and affect the normal use, the company responsible for free replacement or warranty.

⑵. Each product is accompanied by certificate, packing list and instructions.

⑶. You can order the appropriate product types according to the table. If you have special requirements, the company can design and manufacture.

Packaging & Transportation


After finishing the High Pressure Horizontal Pipe production, we will pack the goods. In general, we pack the goods in wooden pallets or wooden cases. Special packing is available according to customers' requirements.


Advantage:

1). ADVANCED PRODUCTION EQUIPMENT
2). ISO 14000 / ISO 9000 / QUALITY CERTIFICATE
3). STRICT QUALITY CONTROL, STRONG R&D TEAM
4). ENVIRONMENTAL FRIENDLY WITHOUT POLLUTION
5). 10 YEARS MANUFACTURING EXPERIENCE, STRONG TEAM




FAQ:

1. Payment Term:
In general,30% T/T deposit in advance,70% balance payment scan copy of shipping documents


within 7 workday. If the quantity and amount is small,we suggest 100% deposit in advance.
2.Can we produce goods with special specification?
First of all ,we need to know the specification in details,then we need to check with our technology


department,we will give customer satisfying reply as soon as possible.
3.Can we delivery goods on time ?
Yes,If there is the special case of force majeure, we will inform the clients in advance.
4.Port of loading
In general,Tianjin / Qingdao / Ningbo , other ports as customer request.
5. What is the warrantee period?
There is a 1 year warranty from the date of EX-factory.

1). ADVANCED PRODUCTION EQUIPMENT

2). ISO 14000 / ISO 9000 / QUALITY CERTIFICATE
3). STRICT QUALITY CONTROL, STRONG R&D TEAM
4). ENVIRONMENTAL FRIENDLY WITHOUT POLLUTION
5). 10 YEARS MANUFACTURING EXPERIENCE, STRONG TEAM.

Please leave message at the bottom for more details, You will get response within 24 hours!